Posted by
Dan

| Posted in Pedantry | Posted on 08-11-2013
0
This is a followup post to How To Proof Proper, Innit. If you find this guide helpful then be sure to check that out too.
Spelling matters. Weirdly, despite living in an age where everyone has smartphones with built-in spell checkers and the ability to access Google on a whim, nobody can spell or punctuate anymore. With luck, this colourful guide will keep you from committing some of the worst offences. The guide is ordered from Easy to Sod It, so more advanced readers may wish to scroll past the first few.
YOUR vs. YOU'RE
While they are pronounced the same, in writing these are two completely different words.
"Your" refers to a possession (your hat, your name, etc.).
The apostrophe in "you're" tells us that it's a combination of the words "you are". Generally you'll use this if you're describing someone (you're beautiful, you're a murderer, etc.).
RULE TO REMEMBER: "If you're talking about a person, use you're. If you're talking about an item, use your."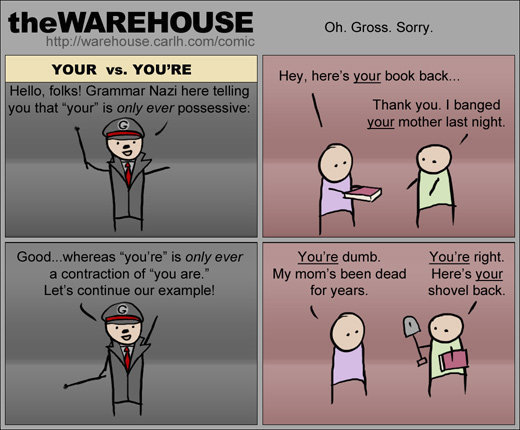 Read the rest of this entry »